Jungle Doc Productions, documentaries
First, the passion
Jungle Doc is a documentary production company born in 2009 from the meeting of two passions: that of Thierry Jamin Thierry Jamin, French explorer in the Peruvian Amazon, for the Inca civilization and more generally for the civilizations of South America, and that of Alain Bonnet, who managed for 24 years a communication agency in Muret, near Toulouse, for image and sound.
Human adventures
Our documentaries are not fictions, nor re-enactments. These are real stories, real human adventures, filmed at the heart of the action, at the time of the facts and told by the actors themselves and the direct witnesses.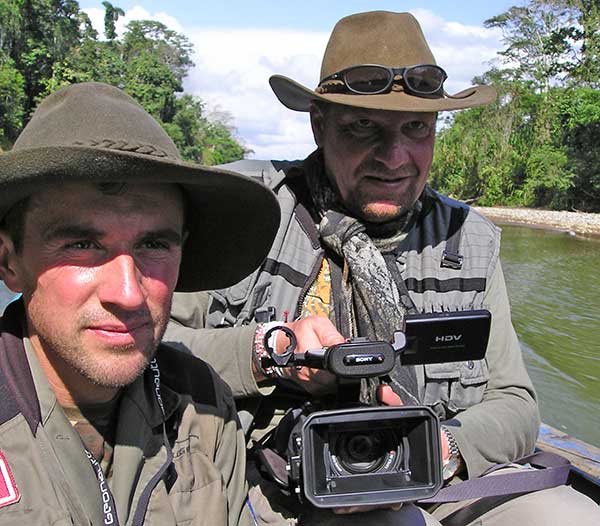 When human adventure goes further than fiction…
A multi-disciplinary team
Thanks to its team present in Peru (cameraman, logistics), to the material means (assembly station, sound booth, etc.) available in France and to partners (composer, voice-over, 3D animator, etc. .), Jungle Doc Productions is autonomous for its productions.
Intended for all audiences, fans of Indiana Jone's, Tintin or the "X-Files" will love the productions of Jungle Doc Productions!

Incamazonia
The adventurers of the lost city
More than a documentary, it is a real adventure film devoted to the research and discoveries of Thierry and his team in the Peruvian Amazon in the footsteps of Paititi, this Grail of South American archeology.
Two opus available in French and English (1h29 and 1h25)

Machu Picchu
The secret room
This documentary tells the story of this incredible discovery, made at the heart of one of the most famous archaeological sites on the planet.
Three 52 mins  opus available in French and English

Alien Project
The case of the mysterious mummies of Nasca
This documentary tells the story of this amazing discovery with universal implications. Passionate about Indiana Jone's and the X-Files series will not be disappointed. Except that the facts reported here are 100% real.
6 x 52 mn – In French, English and Spanish. In production.
Do you want to see our productions?
No problem, our films are available on VOD on the Fantastic Entertainment application:
Prices: 3,99 US$ for one week / 7,99US$ for one year.