The last secrets of Machu Picchu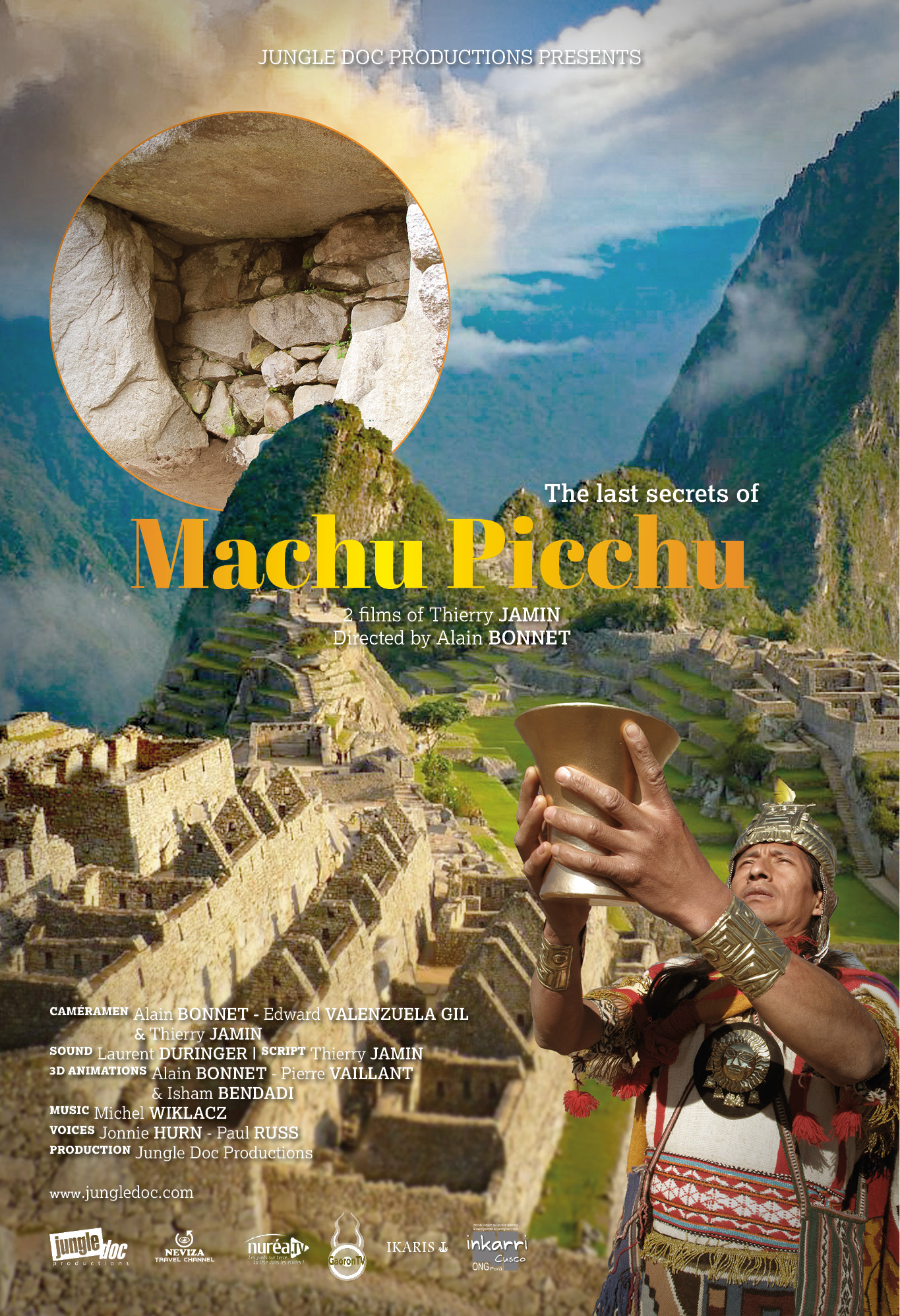 "The last secrets of Machu Picchu", documentary in 2 x 1h15mn, tells the story of an incredible discovery, made in the heart of one of the most famous archaeological sites on the planet. Underground chambers, probably burials, would be found behind a door obstructed by stones under one of the most important buildings of the city: the Temple of the 3 Doors. It also tells the story of the Inca Empire, the arrival of the Spanish conquistadors which will lead to the fall of this civilization and the mystery of the disappearance of all the royal mummies, including that of Pachacútec.
This incredible and unlikely story with multiple twists and turns was fully followed and filmed by Jungle Doc Productions cameramen.
A film by Thierry Jamin, directed by Alain Bonnet
with original music by Michel Wiklacz.
Produced by Jungle Doc Productions.
1 – A door to the unknown
Duration : 1h15mins
The story begins in 2010, when David Crespy, a French engineer on holiday in Peru, thought he had by chance, discovered a "secret door" at the foot of one of the Machu Picchu main temples. But in Peru, no payed attention to him. In 2011, he took contact with the French explorer Thierry Jamin. Skeptical at first, he was soon convinced of Crespy's discovery. He formulated an hypothesis about the presence of burial chambers still intact, in the heart of the Inca citadel. In April 2012, Jamin and his group got the go-ahead from the Peruvian Ministry of Culture to perform electromagnetic resonances at the supposed site of the funeral site. Electromagnetic resonances are performed in April 2012. They soon discovered the existence of a staircase, leading to a quadrangular room, then to a dozen of cavities with human dimensions. Probably graves. But they also discovered the presence of large deposits of non-ferrous metal objects (silver and / or gold).
2 – The Emperor's Mausoleum
Duration : 1h14mins
David Crespy was right. This is a major discovery. Perhaps the Inca Pachacútec mausoleum, the founder of Machu Picchu… but above all, of the Inca Empire ! On September 5th 2012, Peruvian authorities acknowledged officially the discovery made by Thierry Jamin and the Inkari Institute. But the affair began a little complicated when Thierry presented a new project, whose goal would be to open the famous entrance. The headmaster of the Machu Picchu Sanctuary, in collusion with the regional director of the Ministry of Culture (later dismissed and prosecuted for embezzlement), tried by all means to prevent this new project. Then they generated a brutal campaign of controversy against Thierry Jamin, where accusations, insults and false rumors were used. Death threats soon increased at the French explorer home. He was called "false archaeologist" and accused of wanting to "destroy Machu Picchu".